REFLEXOLOGY
Cleanse and Rejuvenate Your Body and Mind with Reflexology!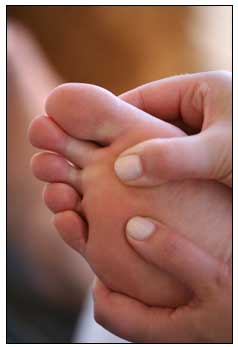 At Miracle Hands Massage we offer several massage techniques and styles including Reflexology. Whatever your specific need or request, Licensed Massage Therapist and owner/operator Kathy Hatvani has provided professional, quality massages and alternative healing in Meridian /Boise & surrounding areas for over 20 years.
A therapeutic massage session may be just what you need to help rejunvenate your mind and body. This page is about Reflexology:
Reflexology:Technique of applying pressure to reflexes that have a definite affect on the normal functioning of all parts of the body.
Pressure with expert thumb, finger and hand techniques on feet and hand reflex areas, can obtain beneficial results to the entire physical body. This technique does not use oils or lotions.
Throughout history, people around the world have been seeking a holistic approach to health issues. Archeologists have uncovered evidence of ancient Reflexology medical systems in Egypt, China and Japan, used long before the birth of Christ.
Some of the benefits of Reflexology are:
Relaxation

Pain reduction

Improvement in blood flow

Rejuvenation of tired feet

Post-operative recovery and pain reduction

Medical Care advancements and additions for cancer, dialysis, etc. care

Mental health care for anxiety, depression and PTSD care

Ease negative symptoms experienced during delivery and Post Partum care
Kathy Hatvani has over 20 years hands-on experience helping and healing by using her reflexology techniques.  Are you suffering from pain, stiffness, injury?  Give Kathy a call.  Her gentle and soothing touch may be just the thing to give you relief!  Call 208-869-4045 today.
Revitalize your body and mind with a massage from MIRACLE HANDS!
(Gift Certificates are Available)
MIRACLE HANDS
Kathy Hatvani, Owner/Operator
By Appointment Only
Near Locust Grove & Ustick
Meridian, Idaho 83646
(208) 869-4045