LOMI LOMI MASSAGE
Cleanse and Rejuvenate Your Body and Mind!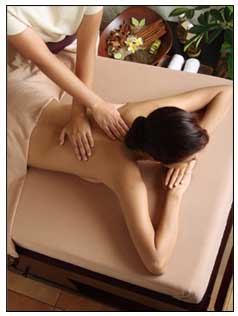 A therapeutic massage session may be just what you need to help restore your body to a natural stress-free, healthy condition. Miracle Hands offers a wide range of therapeutic massage techniques and styles.
Call owner/operator Kathy Hatvani for a professional, quality massage session. She will design a session fit to your specific needs in order to rejuvenate mind and body. Kathy is a Licensed Massage Therapist and has provided professional massages to her friends and neighbors in the Meridian / Boise Idaho area since 1995.
Kathy offers her expert technique in the Hawaiian Massage called Lomi Lomi.
Lomi Lomi: Hawaiian Massage using mainly the forearms.
Lomi Lomi practitioners use mainly their forearms, but can also use their palms, elbows, fingers, knees, feet, knuckles and/or sticks and stones. Hawaian families practiced different varieties of Lomi Lomi.
Ancient Hawaiian lomi Lomi was practiced for several reasons:
Healing.
Aiding in digestion.
Bodily restoration.
By masters in Hawaiian martial arts.
Lomi Lomi was applied in conjunction with prayer and intention as were all endeavors in old Hawaii. It has been described to as "praying work". Those who practiced Lomi Lomi were often referred to as "doctors" as they were an intregal part of total healing.
Today, "Lomi Lomi is now a world-wide, popular form of massage. Those practiced in Lomi Lomi prefer to treat clients privately and quietly. They may also ask their clients to meditate and pray. Diet changes and other holistic healing practices may be recommended to treat the entire person."
Revitalize your body and mind with a massage from MIRACLE HANDS!
(Gift Certificates are Available)
MIRACLE HANDS
Kathy Hatvani, Owner/Operator
By Appointment Only
Near Locust Grove & Ustick
Meridian, Idaho 83646
(208) 869-4045