FREQUENTLY ASKED QUESTIONS
What would you like to know about massages?
Ask Kathy at Miracle Hands Massage!
Q: Do I have to take all of my clothes off to get a massage?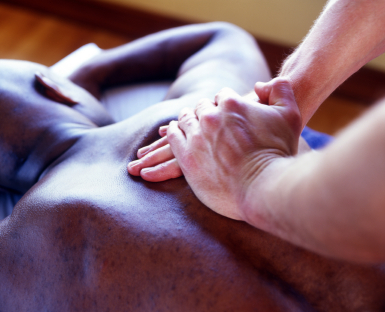 A: There are no hard and fast rules about garments while receiving a massage. Anyone who has had a tension-releasing neck massage can attest to that! The best body massage techniques can be applied most effectively to your body if you do not have any binding clothing between you and your therapist. However, a good therapist will provide a fresh, soft, clean sheet for your comfort and modesty. You are also welcome to remain clothed in your undergarments if you desire. Your comfort and the ability for us to give you the most effect massage is our main concern.
Q: Does a massage hurt?
A: There should not be any brusing or dibilitating discomfort caused by receiving a massage, however, anytime pressure is applied to muscles some bit of soreness can be experienced. Your massage therapist should be aware of your body's responses to the techniques being used and will ask for your personal feed-back often. Any soreness or discomfort should disappear within one or two days after your therapy. Ice packs or heat packs may also help. Proper massage techniques can even create a feeling of continued pressure on problem areas when done correctly. It is prudent to recognize the differences between pain and corrective pressure.
Have a question about Massage that you would like answered? Give us a call today!
Revitalize your body and mind with a massage from MIRACLE HANDS!
(Gift Certificates are Available)
MIRACLE HANDS
Kathy Hatvani, Owner/Operator
By Appointment Only
Near Locust Grove & Ustick
Meridian, Idaho 83646
(208) 869-4045
**Miracle Hands reserves the right to refuse services to anyone. If your behavior is in any way inappropriate your session will be terminated. You will be asked to leave with no refunds.**