HENNA BODY ART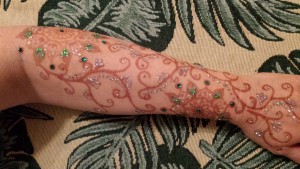 Henna Bejeweled
Celebrate Life with a Hatvani Henna Temporary Tattoo from Miracle Hands Massage!
Miracle Hands now provides creative, unique bejeweled Henna – Temporary Body Art using a variety of world-known techniques and styles. For special occasions like weddings, anniversaries or birthdays or just to feel special each and every day, Kathy Hatvani of Miracle Hands Massage now provides professional henna imaging and embellishment in Meridian, Garden City, Nampa, Kuna and surrounding Boise areas.
A temporary henna tattoo may be just what you need to step into the realm of unique elegance. Body art gives you an edge on celebrating life plus boosts each day into a special festival of living. This is what Kathy calls her "HATVANI HENNA BODY ART"
Henna: Elegant, Unique, Embellishment that is safe and temporary.  Great for weddings, graduation, birthdays, festivals and any celebration!
With Kathy's Hatvani Henna, the ordinary becomes exceptional; the plain becomes elegant and the common becomes extraordinary. Choose your style of Hatvani Henna:
1. Mehndi-scrolls, paisley, etc.
2. Nature-creation, animals, trees, etc.
3. Names-girl/boyfriend, school, football team, etc.
4. Events-memorial names/dates, births, love
5. Sparkly/gemstones/glitter embellishments
Return to Specialties Page
Celebrate life with Hatvani Henna Body Art from MIRACLE HANDS!
Revitalize your body and mind with a massage and Henna from MIRACLE HANDS!
Garden City, Boise, Nampa, Meridian and surrounding Idaho areas
(Gift Certificates are Available)
MIRACLE HANDS
Kathy Hatvani, Owner/Operator
By Appointment Only
Near Locust Grove & Ustick
Meridian, Idaho 83646
(208) 869-4045